As you might have heard, the LAMB had its big awards show recently, where the members voted for their peers in 14 categories, and Blog Cabins was honored with 3 wins, including the prestigous Best Blog! Click the button for more details. The other two wins were for Best Rating System and Best Impression of Bob Dylan (fitting given my name), which honored the person that posts a lot but maintains high quality with each post.
Thanks to all that voted for me! Be sure to check out all the other winners' sites as well.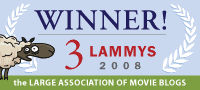 D'oh! I almost forgot - here's me at the LAMMY press conference that immediately followed the awards ceremony. Pictures of the after party were lost somehow, though. Maybe we'll get lucky and they'll turn up somewhere...